A new report has revealed a concerning trend — Louisiana leads the country for distracted driving crashes. The study, conducted by Zutobi Drivers Ed, found that Louisiana is third in the nation for distracted driving car crashes, and only New Mexico and Hawaii reported a higher rate of collisions. Distracted driving is statistically more dangerous than driving under the influence, but it's also more common. If you've ever taken your eyes off the road to answer a phone call or text message, you're far from alone. Some studies have found that most drivers admit to driving while distracted. It may seem harmless, but nearly 200 people died in distracted driving crashes in Louisiana. That's one every two days.
Drivers are often wary of driving drunk because of the influential public information campaign against getting behind the wheel while intoxicated. The public is well aware of the danger and the potential legal consequences. But distracted driving can ruin lives in the same way, even if it doesn't carry the same stigma. Even when someone survives a distracted driving crash, they may be left with life-altering injuries that cause long-term health problems. If you've been injured or lost a loved one in a distracted driving crash, you should call a Louisiana car accident attorney to help you determine the best way to move forward. 
Why Do People Drive Distracted?
Smartphone use is highly associated with anxiety, and many people report feeling anxious when separated from their phones. For some drivers, it's that simple. They don't like how it feels when they're away from their devices, so they use them behind the wheel. In other cases, drivers wrongly assume they can still pay attention to driving while texting or checking their email. In reality, sending or reading one text message takes your eyes off the road for five seconds or the length of a football field. Even if you monitor the cars around you, looking away can be dangerous.
There's ample technology available to stop distracted driving, and many smartphones have built-in do-not-disturb features for driving. But distracted drivers may make excuses for why they need their phones. One common thought is that everyone else on the road also drives distracted. Rationalizing reckless behavior is easier when we don't think we're alone.
It is illegal to text or use social media while driving in Louisiana. 
Louisiana drivers are still legally allowed to make phone calls, and exceptions apply for using GPS devices, reporting illegal activity, or summoning emergency help. A first-time distracted driving offense carries a fine of up to $500. Subsequent offenses come with even heftier penalties. Distracted drivers who cause fatal car crashes can face jail time — in Louisiana, these drivers are often prosecuted for vehicular homicide, negligent injuring, and other criminal charges.  
Types Of Distracted Driving
While phone use is commonly discussed when examining distracted driving factors, it isn't the only contributor. Even if your phone is safely stowed away, you can still cause a distracted driving accident by engaging in risky behaviors. Some of the most common non-texting causes for distracted driving collisions are below.
Eating and drinking

Listening to music

Fiddling with GPS

Hands-free phone call

Conversation with passengers

Disciplining children

Reaching into backseat 
What To Do After A Louisiana Distracted Driving Crash
The immediate aftermath of a Louisiana car crash can be disorienting and overwhelming. You may not be sure what happened, let alone whether the other driver's behavior contributed to the crash. It's essential to call the police after a collision. Law enforcement officers are tasked with determining the circumstances that led to an accident and will ask questions to ensure everyone involved is sober and alert. If they suspect a driver is distracted, they'll note it in an accident report.
It's also essential to find a Louisiana car accident attorney experienced in distracted driving cases if there's any question it may have played a role. Your attorney's job is to help gather information to bolster your case. Components like eyewitness testimony, expert opinions, and physical evidence can all support when pursuing damages for distracted driving car accidents. You can sue the other driver for negligence if you show they breached their duty and drove irresponsibly, leading to you being injured in an accident. You can ask for compensation for quantifiable losses like medical expenses, lost wages, property damage, and funeral bills for a loved one. You can also seek non-economic damages for pain and suffering or loss of enjoyment of life. 
An experienced Louisiana car accident lawyer will ensure you have a solid personal injury case, increasing your chances of success. Contact Herman Herman Katz if you've been injured in a distracted driving crash and need an experienced team to fight for you. Call us at 844-943-7626 or fill out a free case review form today.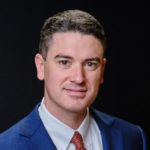 Jed Cain is a partner with Herman, Herman & Katz, LLC. He has dedicated his career to representing injured folks and their families.